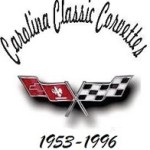 The Carolina Classic Corvettes Club was started in February of 2012 by corvette enthusiasts to preserve the history of the early Corvette, 1953-1982 models also known as C1s, C2s and C3s Corvettes.  In October of 2014 the c4's were added to the Classic Corvette Group due to them being 30 years old.  Thus models from 1984 to 1996 were now a part of this classic group.The club voted and it was approved by 91%. Welcome c4 owners!! The club now consists of 1953 to 1996 models and we continue to grow. The group begun on the Corvette Forum and at the first meeting of interest 24 corvette owners were present. Our club name was the Carolina Stingrays but after a majority vote it was decided in order to cover and represent all years the name Carolina Classic Corvettes was  chosen. This group is made up of like owners to share knowledge and tips for keeping these classic vettes on the road. We respect and honor all Corvettes but we have a deeper passion for the early models. We are based out of the Charlotte, NC metro area but all early corvette owners are welcome to share and post information. Our members come from Hickory, Denver, Mount Holly, Shelby, Lake Norman, Huntersville, Waxhaw, Fort Mill , Pineville, Indian Trail, Concord, Kannapolis, Rockwell, Cornelius and surrounding areas.
When the club was formed in 2012 one of the goals was  to be an on hands club and eventually purchase a project car and complete it. In October of 2012 a 1975 fell in our laps so to speak. One year later, Oct 2013 goal accomplished due to donations and time from the members. Also donations from members of the Corvette Forum, Vette Pros of Charlotte, N.C, Keen Parts, PPG and Keystone, O'Reilly Auto Parts, Freeman's Stereo, Krispy Kreme doughnuts, Solano Custom Painting , Vette Masters and Corvette Central. Thanks to the help and support of these vendors the Misty Project was done. A 1975 Stingray that would have mostly likely ended up as a parts car was brought back to life and returned to the owner Misty Davis of Concord N.C. Her inspiring story to complete this car upon the death of her father regardless of the hurdles set before her shows each and everyone of us that there is good in every situation. To read the story go to the C3 Corvette forum, General Discussion section and put in key word Misty in the search column.
Our next major project was in October of 2014. We hosted a Car/Truck show in Denton, N.C  called the Persimmon Branch Car and Truck Show. 100% of the proceeds went to the Patriot Rovers. The show was a success due to sponsors like the Persimmon Branch Farm, VettePros of Charlotte, Done Right Auto Parts, Advance Auto Parts, Hendricks Cars of Charlotte, Hendricks Cars of Hickory, AAG- Auto Appraisal Group. Also a special thanks to the Rock Hill Cruisers who trained our judges in a 8 weeks training course on how to judge to by NHRA Standards. Also various clubs like the Roadrunner Vettes and Victory Lane Corvette Club for coming  and supporting us.
In August of 2015 we participated in a road trip to Carlisle. The Grand Daddy of Corvette Shows! It was a special caravan of only C1, C2, C3, and C4 corvettes. This 500 mile trip one way was as one member calls it, "Another Corvette Adventure". All corvettes from 1953-1996 were welcome to join us as a guest or member.  Please click on the Carlisle tab to see photos and videos of this epic trip.
To see all the events for the year just view our calendar tab and the month.